The Bounty Hunter adalah film komedi romantis & aksi yang disutradarai oleh Andy Tennant, serta dibintangi oleh Jennifer Aniston dan Gerard Butler. Cerita berpusat pada pemburu hadiah (Butler) yang dibayar untuk menangkap mantan istrinya (Aniston), yang telah mengabaikan jaminan. Film ini dirilis di Inggris dan Amerika Serikat pada tanggal 19 Maret 2010.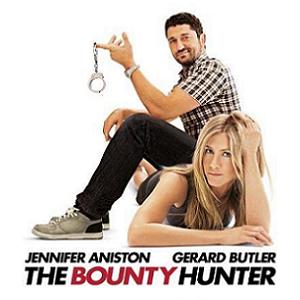 Sinopsis
Milo Boyd (Gerard Butler), pemburu hadiah yang tidak terlalu beruntung, mendapatkan pekerjaan impiannya ketika ia ditugaskan untuk melacak mantan istrinya yang melewatkan tahanan, reporter Nicole Hurley (Jennifer Aniston). Ia menganggap bahwa pekerjaan tersebut adalah pekerjaan yang mudah, tapi ketika Nicole memberinya slip sehingga ia dapat mengejar pemimpin dari pembunuhan yang ditutup-tutupi, Milo menyadari bahwa tidak ada yang mudah saat ia bersama Nicole. Mantan pasangan tersebut terus bersama satu sama lainnya sampai mereka menyadari bahwa diri mereka ingin bersama dalam menjalani kehidupan. Mereka berpikir janji mereka untuk saling mencintai, menghormati dan mematuhi itu sulit, sekarang bertahan hidup bahkan menjadi jauh lebih sulit.
Berikut film The Bounty Hunter yang dapat Anda download secara gratis.
Download
Note :
Download dan beri nama tujuh file RAR tersebut sesuai nama file asli.
Misalnya Bounty Hunter.part1.rar, Bounty Hunter.part2.rar dan seterusnya hingga Bounty Hunter.part7.rar.
Tempatkan tujuh file tersebut pada folder yang sama.
Kemudian ekstrak salah satu file!
Hasil ekstrak berupa file video DVDRip dengan format AVI berukuran 701 MB.
INGAT! Video hanya dapat diekstrak jika ketujuh file telah didownload seluruhnya.
Jika tidak, akan terjadi error yang menyatakan adanya bagian yang kurang sehingga file tidak dapat diekstrak.
Apology :
Maaf jika film ini harus dibagi menjadi tujuh file.
Hal ini dikarenakan pembatasan ukuran upload di IDWS menjadi max 100 MB.