TIME yang setiap tahunnya melakukan pemilihan orang-orang hebat yang dinilai paling berpengaruh di dunia telah kembali mengadakan poll voting bagi kita untuk memberikan suara bagi para pemimpin, artis dan profesi lainnya yang Anda pikir pantas mengisi daftar 100 besar Most Influential People in the World pada tahun 2010 ini.
Mulai dari Lady Gaga yang sangat kontroversial dengan kostum dan musiknya, James Cameron, sang sutradara yang telah melahirkan salah satu film terbaik sepanjang masa Avatar, Sandra Bullock yang telah dianugerahi Oscar sebagai Aktris Terbaik 2010 pada film The Blind Side, Barack Obama, presiden Amerika Serikat yang ternyata telah berhasil masuk dalam daftar ini sebanyak 4 kali, Oprah Winfrey yang akan segera mengakhiri talk shownya The Oprah Winfrey Show tahun 2011 nanti, rival Oprah, Ellen DeGeneres yang merupakan host talk show The Ellen DeGeneres Show serta juri baru American Idol, Taylor Swift, salah satu penyanyi Pop Country yang paling banyak dianugrahi penghargaan award, Susan Boyle yang melambungkan namanya lewat kontes bakat Britain's Got Talent, Meryl Streep, salah satu aktris terbaik dunia yang memiliki nominasi terbanyak di berbagai ajang anugrah perfilman, Pete Cashmore pemilik Mashable.com yang disebut-sebut sebagai Brad Pitt-nya blogging, hingga Marc Jacobs, sang perancang brand Marc yang telah menjadi fashion mewah dan seksi.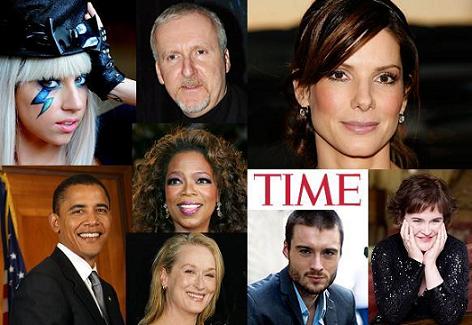 Berikut daftar lengkap para nominasi yang berkesempatan masuk ke dalam daftar resmi 100 Most Influential People in 2010.
Lady Gaga
Kim Yu-Na
Jeff Bridges
Hillary Clinton
Nicolas Sarkozy
James Cameron
Muammar Gaddafi
Sandra Bullock
Sarah Palin
Lindsey Vonn
Nancy Pelosi
Han Han
Paul Volcker
Michelle Obama
Scott Brown
Nicole "Snooki" Polizzi
Roger Ailes
Dave Eggers
Beyoncé
Conan O'Brien
David Chang
Dan Coudreaut
Catherine Ashton
Arne Duncan
Neil Patrick Harris
Barack Obama
T-Bone Burnett
Mo'Nique
Tiger Woods
Kathryn Bigelow
Oprah Winfrey
Taylor Swift
Rahm Emanuel
Alec Baldwin
Stephen Colbert
Ellen DeGeneres
Jay Leno
The Lost Creators
Seth MacFarlane
Jon Stewart
Matthew Weiner
Dennis Crowley
The Penny Arcade Co-Creators
Peter Molyneux
Bill Clinton
Neil Gaiman
Marissa Mayer
Rain
Pete Cashmore
Manmohan Singh
Sheik Khalifa bin Zayed al-Nahayan
Apolo Ohno
Michael Lewis
Grant Achatz
Billy Graham
David Boies and Theodore Olson
Banksy
Susan Boyle
Simon Cowell
Cheryl Cole
Vivienne Westwood
Ferran Adrià
Manny Pacquiao
Meghan McCain
Timothy Geithner
Stanley McChrystal
Annise Parker
Glenn Beck
Joe Lieberman
Bode Miller
Olympia Snowe
Eric Cantor
Mike Mullen
Ron Paul
Rahul Singh
Paul Farmer
Mitt Romney
Atul Gawande
Betty White
Jane Lynch
Jimmy Fallon
Lea Michele
Jeff Zucker
Bristol Palin
Emma Watson
Greg Mortenson
Meryl Streep
Drew Brees
Roger Federer
Adam Lambert
John Madden
Kaká
Elizabeth Warren
Harvey Weinstein
Kanye West
Dana White
Tim White
Kristen Wiig
Marc Jacobs
Johanna Sigurdardottir
Shah Rukh Khan
Tim Westergren
Elizabeth Gilbert
Temple Grandin
Gabourey Sidibe
Drew Pinsky
Prince
Rachael Ray
Jason Reitman
Clint Eastwood
Kim Clijsters
Rupert Murdoch
Rachel Maddow
Ricky Gervais
Jerry Seinfeld
Yukio Hatoyama
Robert Pattinson
Amy Poehler
Arnold Schwarzenegger
Carlos Slim Helú
Sonia Sotomayor
Anna Wintour
Mehmet Oz
Warren Buffett
Mark Carney
Bill and Melinda Gates
Michael Sherraden
Steve Jobs
J.T. Wang
Dominique Strauss-Kahn
Lawrence Summers
Kathleen Merrigan
Lisa Jackson
Michael Pollan
Christine Lagarde
Angela Merkel
Tidjane Thiam
Bo Xilai
Wang Qishan
Liu Xiaobo
Danica Patrick
Robin Li
Lee Kuan Yew
Preity Zinta
Shirin Ebadi
Serena Williams
Jimmy Kimmel
Zahra Rahnavard
Jean-Max Bellerive
Hugo Chávez
Luiz Inácio Lula da Silva
Samuel Alito, Jr.
Cory Booker
Ben Bernanke
Andrew Breitbart
Evan Bayh
Peter Orszag
Akio Toyoda
Lloyd Blankfein
Chetan Bhagat
Suzanne Collins
Andy Samberg
Elton John
Jaron Lanier
Patti Smith
Ben Stiller
Zaha Hadid
Chelsea Handler
Tim Gunn
Renzo Piano
Ashton Kutcher
Joannie Rochette
Jasper Schuringa
J.J. Abrams
Judd Apatow
Neill Blomkamp
Alex Rodriguez
Bradley Cooper
Sachin Tendulkar
George Clooney
Zach Galifianakis
Diane Nelson
Zoe Saldana
Quentin Tarantino
Richard Goldstone
Recep Tayyip Erdogan
Mary Karr
Salam Fayyad
Benjamin Netanyahu
Mir-Hossein Mousavi
Anwar al-Awlaki
Cristiano Ronaldo
Didier Drogba
Thierry Henry
Joseph (Sepp) Blatter
Tomoaki Kato
Edna Foa
Jenny McCarthy
Elon Musk
Saad Hariri
Ayo vote favorit Anda! 😀