Di mana kamu bisa memperoleh makanan termahal di dunia? Di Amerika, Perancis, Belanda atau Inggris? Bukan. Jawabannya adalah di Sri Lanka, salah satu negeri termiskin di dunia. Resort The Fortress di negara itu mengklaim menyediakan makanan termahal di dunia. Harganya mencapai US$14.000 atau sekitar Rp. 132.000.000.
Makanan itu berupa gula-gula berisi buah yang dihiasi patung nelayan berbahan cokelat dan batu permata raksasa. Makanan bernama The Fortress Stilt Fisherman Indulgence itu diciptakan untuk memberikan pengalaman baru kepada para pengunjung resort tersebut.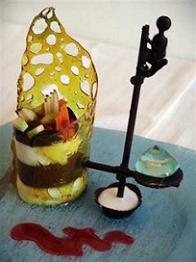 Menu mahal itu harus dipesan pengunjung secara khusus. Sejauh ini telah banyak yang menanyakan makanan tersebut, termasuk dari Jepang. Namun, hingga kini belum ada seorang pun yang mau menghambur-hamburkan uang untuk mencoba menu mahal itu.