Mau dapat penghasilan setiap kali Anda online menggunakan komputer?
Anda tidak perlu melakukan apapun, yang Anda perlukan untuk memperoleh uang $ adalah menjalankan program TickerBar yang akan Anda dapatkan setelah registrasi di Green Horse.
Setelah mengklik link → Green Horse Registration
Akan tampil page berikut.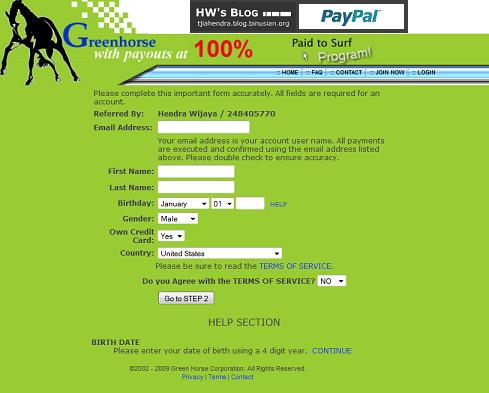 Isi semua field data diri Anda dengan benar!
Setelah mengisi field kosong, klik tombol Go to STEP 2!
Akan tampil page dengan field kosong seperti password, phone number dan lain sebagainya. Isi seluruh field dengan benar dan klik tombol Go to Final STEP!
Tahap registrasi sudah selesai. Anda siap mengaktifkan account Green Horse Anda, klik tombol Activate Account!
Check e-mail Anda dan Login ke account Green Horse!
Download TickerBar dengan mengklik tombol download TickerBar di menu account Anda!
Segera install dan jalankan software TickerBar!
Selamat, TicketBar siap membantu Anda mendapatkan penghasilan $ setiap kali Anda online!
7 Comments to "Make Online Money"
on 03 Jan 2010 at 4:00 pm

1

irham

oit…kk inih beneran tak sik ?? tolong ditanggapi sesama binusian saling membantu lah….!!

trims….!!

salam binusian….!!!

Haha 😆
Beneran kog.
Coba deh buat buktiin! 😀

on 05 Jan 2010 at 2:02 am

3

irham

trims nih jawaban nya…!!
eemm..tapi masih da yg ganjel nih, minta email na dunk mu nanya lagi nih…!!

trims…!!!

Sudah saya email. 🙂

Beneran gak neh? Jangan2 cuma scam….soalnya bnyak yg nawarin kayak gini…bukanya gak percaya, tapi udah ada bukti lum? Km ndiri udah jadi membernya lum, ato cuma kasih tau ke org2 aja..?

Benar Steven.
Tapi ada nominal min-nya sebelum bisa di-withdraw.
$50 untuk US, $90 untuk non-US.

sistem kerjanya macam mana ?
Leave a Comment Below